Fitness Testimonials: Guide to Collecting Happy Client Reviews

Goutham Jay
·
Jul 19, 2023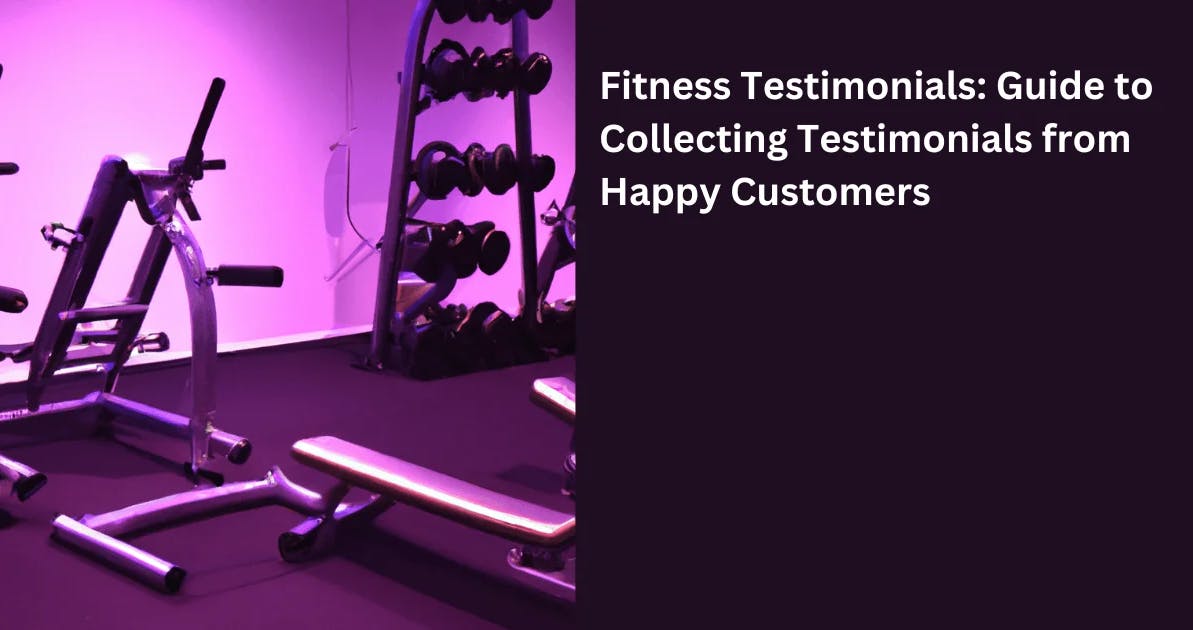 Fitness Testimonials: Guide to Collecting Happy Client Reviews
The fitness industry is getting competitive with more personal trainers & coaches going directly on social media to build their branding
What if you could use it to your advantage? With an active presence on social media, customers would be super happy to click the button and send you a positive testimonial

So there's no doubt that Fitness Testimonials are an essential part of marketing for fitness businesses and personal trainers.
If you're still wondering why, then let's be clear that they show social proof to potential clients who are still considering whether to opt for your service out of 1,000 others out there
Testimonials demonstrate to potential clients that the trainer & the fitness company has a track record of success and satisfied customers.
In this article, we will discuss the importance of fitness testimonials, how to collect them, and what to do with them once you have them.

Why Fitness Businesses and Personal Trainers Should Use Testimonials?

Social proof is crucial in the fitness industry. With so many options available to customers, it can be challenging to differentiate one gym or fitness trainer from another.
Testimonials provide an amazing way to establish trust with potential clients.
In addition to building credibility, testimonials offer several benefits for businesses and trainers. Testimonials can help to:
Increase conversions:

When potential customers see that others have had positive experiences with your business or trainer, they are more likely to convert to paying customers.

Build a positive reputation:

Positive testimonials spread fast on social media and via word of mouth creating a positive reputation for you as a fitness trainer in the community.

Provide valuable feedback:

Testimonials provide valuable feedback for your businesses, allowing you to step up the fitness game and make changes to your services accordingly.
Several successful businesses and trainers have used testimonials to enhance their marketing efforts.
For example, Jilian Michaels features client testimonials prominently on their website along with video testimonials from social media channels.
How to Collect a Testimonial for Fitness Training

Collecting testimonials from clients is a simple process, as long as it is done thoughtfully. Here are some tips for collecting fitness testimonials:
Ask for testimonials from clients who have had positive experiences with your business & fitness training services.
Make the process easy and seamless for clients by using a testimonial collection form.

Provide clear guidelines for what clients should include in their testimonials.
Consider offering incentives for clients who leave testimonials, such as a discount on future services or a free training session.
Famewall makes the entire process easy for you to collect testimonials from your clients and manage them in a single place to use them on your website as a testimonial widget or share them in your marketing campaigns by generating an image
Here's how a collection form, created using Famewall looks like
Here's a detailed guide on how you can collect testimonials from your customers.

Examples of Fitness Testimonials

Testimonials can take many forms, but they all have one thing in common: they prove that the fitness trainer's services have been transformational for other customers. Here's what a few examples of fitness testimonials might look like:
"Working with my personal trainer has completely transformed my fitness routine. I feel stronger and more confident than ever before."
"I joined this gym a year ago, and it's been the best decision I ever made. The trainers are incredibly knowledgeable and supportive, and I've seen amazing results."
"Before I started working with this trainer, I didn't think I could ever run a 5K. Now, I'm signed up for my first half marathon!"

Here are fitness testimonials examples from the Fitness Within website
Visual content can be a powerful addition to fitness testimonials.
Before-and-after photos, videos, and progress trackers can provide concrete evidence of the impact of a business or trainer's services.
The biggest reason why customers might hesitate to send you a video testimonial is because they would feel that the process might have a lot of friction.
You can use Famewall's collection form to create a step-by-step guide showing them what they need to answer in the video testimonial.
It just takes 2 clicks for them to start recording and send you a video directly via the form. You no longer have to worry about going back & forth to get testimonials
Here's a quick resource on the best way to collect video testimonials for bigger social proof

What Questions Should Customers Answer in a Fitness Testimonial?

Clients may need guidance on what to include in their testimonials.

Here are some questions to consider asking your customers which you can write in the Testimonial collection form
What were your fitness goals before working with us? How have those goals changed since you started training with us?
How has working with our fitness trainer impacted your overall health and wellness?
What specific aspects of our training program do you find most effective?
Can you provide examples of specific achievements or progress you have made since starting your training program?
What would you say to someone who is considering working with our personal trainer?
How does our business or trainer compare to other fitness programs or trainers you have worked with in the past?
By asking these questions, you can gather valuable insights & feedback that can be used to improve your services and attract new clients.
Encourage clients to be honest and specific in their responses, and don't be afraid to follow up with additional questions or clarifications if necessary
To get a better idea, take a look at these 30 testimonial questions which you can use to collect the best testimonials

How to let Customers Appreciate your Service as a Personal Trainer

As a personal trainer, you work hard to help your clients achieve their fitness goals, and getting appreciation is good to help you stay motivated and also help other potential customers benefit from it.
Here are some ways to show your clients appreciate you as a personal trainer:

Letting them leave a positive review or testimonial:

As we've discussed, testimonials are a powerful tool for personal trainers. Take a few minutes to write thoughtful questions and send them to your customers via email/SMS or social media  asking for a testimonial


Make it easy to refer new clients:

Make it easy for your clients to consider referring potential customers to you. Offer them special discounts & rewards, eg., 2 months off on their fees. Word-of-mouth referrals can be a valuable source of new business.


Collect feedback:

As a personal trainer, you must always be looking for ways to improve your services. At the time of collecting testimonials, also ask for any special feedback

Tips for Collecting Fitness Testimonials from Customers

Collecting testimonials can be a valuable part of your marketing strategy as a fitness business or personal trainer. Here are some tips for making the process as seamless and effective as possible:
Ask at the right time:

Request testimonials from clients when they are most likely to be feeling positive about their progress, such as after a particularly successful session or when they achieve a major goal.

Make it easy:

Provide clear instructions for how clients can leave a testimonial, and offer support if needed.

Offer an incentive:

Consider offering a small incentive, such as a discount on future sessions or a free fitness-related product, in exchange for a testimonial.

Share testimonials:

Once you have collected testimonials, make sure to share them on your website, social media channels, and other marketing materials to help attract new clients.

Also, keep in mind that there are ideal moments when a client is likely to give you a testimonial

Conclusion

In conclusion, fitness testimonials are a powerful marketing tool for businesses and personal trainers.
By showcasing the success stories of satisfied clients, testimonials can help build trust and credibility with potential customers.
Collecting testimonials can be a simple and effective process if done correctly, and can lead to increased business and revenue.
We encourage all fitness businesses and personal trainers to prioritize testimonials in their marketing strategies and to follow the tips and guidelines outlined in this article to make the most of this valuable resource
Start using Famewall to collect testimonials from your training services' customers and also aggregate already existing ones from 15+ social platforms. Then display them on a wall of love

The best part is that Famewall has followed all the best practices to make the best out of your testimonials. You can just copy & paste a collection page link with minimal setup