How Course Creator Avery Smith Uses Famewall for Social Proof & Built a 6-Figure Business

Goutham Jay
·
Aug 23, 2023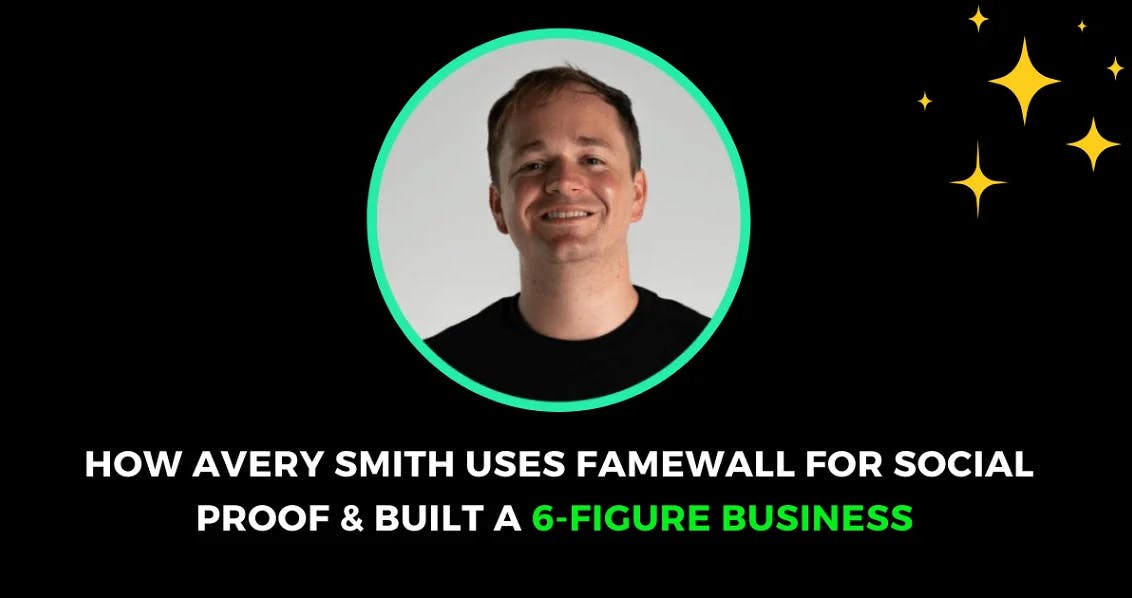 How Course Creator Avery Smith Uses Famewall for Social Proof & Built a 6-Figure Business
Avery Smith is a course creator who's building a 6 figure business using his expertise in Data Science & helping out students
Datacareerjumpstart is his core business which is built on top of Kajabi and he also has other businesses. He is one of the top featured customers on Kajabi
Avery has been using Famewall to collect testimonials from his students and shares them regularly in his course emails and student community for over a year now.
Let's see in detail how he uses Famewall and increases his course sales with social proof

Hey Avery. Could you introduce yourself and tell us your story?

👋 I'm Avery, and I'm an online course creator. I help people pivot their careers into tech by becoming data analysts. I'm a data analyst career coach.
2.5 years ago, I worked for a big corporation, ExxonMobil. And honestly, I just felt like a monkey turning a wheel that didn't do anything. So I knew I had to do something different.
At the time, I had started freelancing on the side & really enjoyed it. So I tried to get some big clients where I could go full-time into freelancing.
I was able to do that, and loved it, but still felt I was trading time for money.
That's when I learned about my friend who was making a lot of money doing online courses. I thought, "I'm smarter than him. I should be able to do that."
And while I'm MUCH less successful than he (indeed, I am not smarter than him), I've been teaching people how to land a data job ever since.

What were some of the problems you faced before using Famewall to manage testimonials?

I really didn't collect testimonials before Famewall. I maybe had a post-program email that I'd send & say, "What were your thoughts" but it wasn't automated & not really consistent.
Now to think of it, I did actually collect some video testimonials before but it was hard because the pressure was on the user to find a video service for the recording.
But also, if I wanted to use it in multiple places on my website, it was always a pain to reupload.
Now using Famewall, I can just send people a simple link to the collection page & BAM it's done in seconds.
And the best part is, it's SO easy to update on my website.

How are you currently using Famewall for your businesses?

I'm using Famewall to collect testimonials from my students for my courses, masterclasses, etc.
And then I use the testimonials on my websites for social proof. It's on the landing pages & sales pages

Apart from this, I'm also using it to help my students practice video mock interviews.
I ask a question via the video collection page, and they respond with their answer. Then their answer is shared with other students so we can all learn together.
This way Famewall also helps me engage with my students apart from collecting feedback from them!

What do you like the most about Famewall?

Famewall is awesome. Their customer support is super fast.
The founder, Goutham is always quick to respond to my requests. And hear my ideas. He even built a lot of my feature requests that I asked, in less than 2 weeks.
It's also so easy to get feedback & testimonials using Famewall, which is not only helpful to my potential customers but useful for me.
It reminds me of the difference I'm making & helps me see the fruit of my labors.

How have your conversions/sales improved after using Famewall?

I feel much more confident doing sales pitches with Famewall. In fact I do spread the word to potential business owners who might find it useful
People ask, "Does your program work?" and I'm able to say, "Look at our testimonials. The program speaks for itself."
This has worked really well for our business
Try Famewall for FREE & increase your sales, and conversions by collecting testimonials and using them as social proof across your websites and emails