The 5 Best Testimonial Software in 2023

Goutham Jay
·
Oct 15, 2023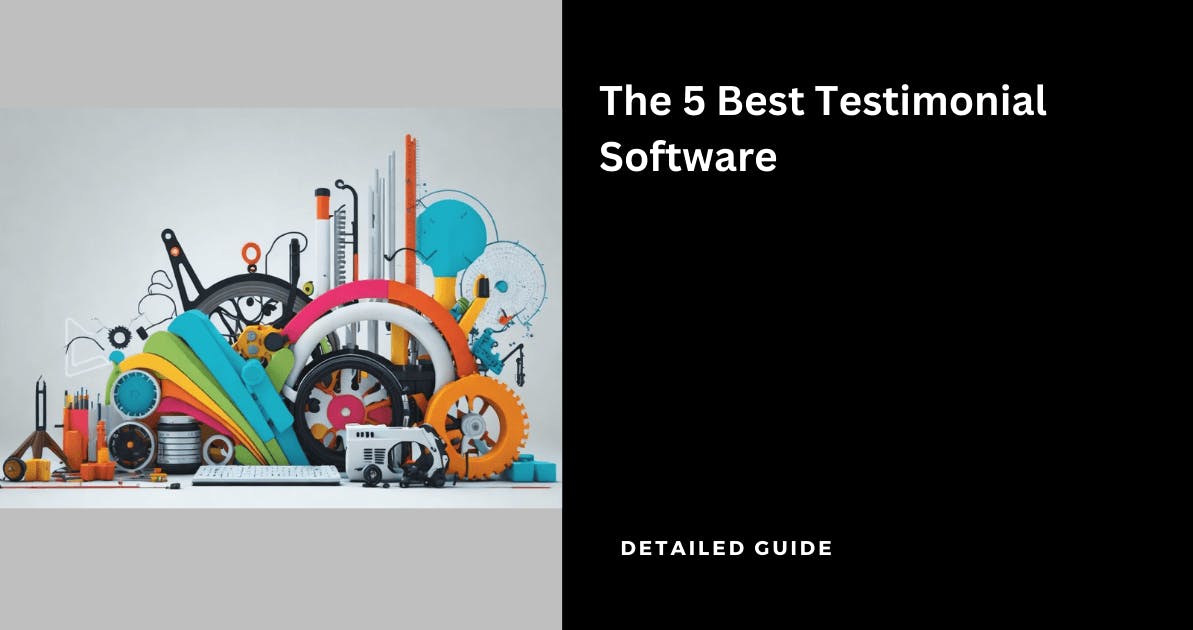 The 5 Best Testimonial Software in 2023
If there's one thing I learned as an entrepreneur, it's that people buy from people. Customers are much more likely to trust the opinion of other customers than believe an advertisement

That's why testimonials are really powerful in convincing customers and also the reason why testimonial collection software is essential for business owners to get to that outcome

Since I've built and sold multiple businesses for a while, I've used a lot of testimonial tools in the market, and came up with 5 of the best testimonial tools that you can use for your business!

I've ranked them based on these 3 main abilities:
Collecting testimonials: How easy is the tool making it to collect testimonials from customers or source them from other platforms
Managing testimonials: How easy is the tool to manage testimonials for multiple businesses in a single place
Sharing testimonials: How easy is the tool making it to share testimonials to help with marketing & see better conversions
Here's a short overview of all the tools:

1. Famewall
Famewall is packed with all the features you need to collect & manage testimonials and at the same time is really affordable

The reason it's the first testimonial tool I recommend regardless of being a founder of it, is because it ticks all the abilities discussed above as a complete testimonial collection tool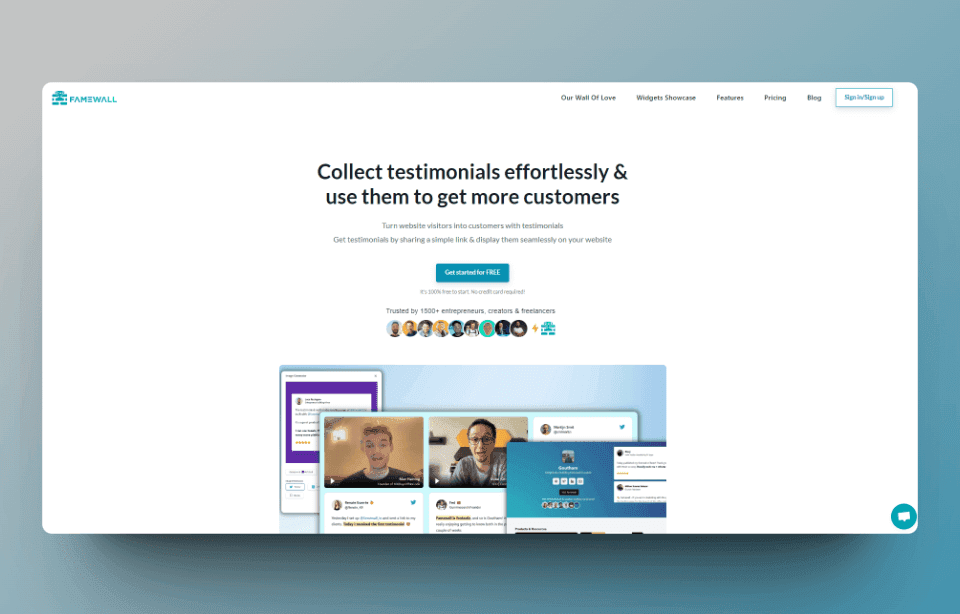 I built it mainly to solve all the problems I faced as an entrepreneur in my previous businesses to assist me with collecting, managing & sharing testimonials. Then I shipped a lot of features based on customer feedback

Collecting Testimonials using Famewall
You can create a custom collection page in Famewall which can be shared with your customers to collect testimonials.

You can also add a custom video message to the testimonial collection page so that your customers find it more personal. It increases the likelihood of receiving an enthusiastic video testimonial from your customers
All your customers have to do is just decide if they want to send you a text/video testimonial. If it's a text testimonial they can enter their name, designation, email, and all the other fields you'd like and send it to you in a few clicks

If they plan to send a video testimonial, they can select the camera/audio source, hit record, redo multiple takes, and submit the video. Famewall takes care of all the hosting & notifies you once you receive a testimonial
As a business owner, you can simply select the testimonials you'd like to have for your marketing purposes or on your website and click on "Approve". This ensures that they are automatically added to your wall (project)
Here's a detailed guide showing you how you can collect testimonials from scratch from your customers

You can import existing testimonials from 25+ sources and also import testimonials in bulk if you have them in a CSV file

Managing Testimonials on Famewall
Managing testimonials on Famewall has been simplified in 2 ways. You can separate testimonials into groups by creating different 'walls'.

Each testimonial wall has a set of testimonials which could be either for a particular business or for different pages of the same business, like landing page, pricing page, sales page etc
You can also search & filter testimonials across different walls. Duplicate a testimonial to different walls so that it can be reused on pricing pages, landing pages, etc based on your needs

Sharing testimonials using Famewall
The main purpose of testimonials is to share them so that they can be used on social media, websites, emails, etc to increase your conversions and get you more sales

Famewall has a lot of options allowing you to share testimonials across different channels.

You can choose from a variety of free testimonial widgets to display the testimonials as an embed without having to write any code
Apart from this, you can also use testimonials in your ad campaigns, email newsletters, etc by creating testimonial images from the collected testimonials at the click of a button
You can share the testimonials as a link for customers to verify social proof by themselves. It shows up beautifully with confetti & makes it more convincing. Here's an example shared testimonial link
And you have Brand Pages & Wall of Love which help you monetize social proof by placing custom call to action on standalone pages alongside testimonials. They can also be hosted on your own custom domain
There are plenty more ways on how you can share testimonials on Famewall. Here's a simple guide explaining how you can use testimonials to boost your marketing effort

Famewall's Pricing
Famewall has plans suitable for a variety of customers like entrepreneurs, course creators, coaches, SaaS startups, agencies & creators with a generous free plan to just get started
Why choose Famewall?
Friendly & Affordable Pricing
Generous free plan
Text & Video testimonials
Testimonial Brand Pages
Integrations with Social Media & Review platforms
Multiple collection pages
Highlight key text on testimonials
No-code options
Unlimited widget varieties
Custom Domains for Wall of Love & Brand Pages
HD Video exports
Support for multiple team members
24/7 Chat Support

2. Testimonial
Testimonial.to is another good testimonial collection tool using which you can collect text & video testimonials from customers
The great thing about this tool is that it also has no-code options to collect & display testimonials

Collecting Testimonials using Testimonial.to
You can create a custom collection form on Testimonial for collecting text & video testimonials from customers using a link
Here in this tool, your customers can record videos multiple times and send a text testimonial with a few clicks

Managing testimonials on Testimonial.to
It becomes a bit difficult to manage testimonials as Testimonial.to allows you to only have 1 space for managing projects/business. It becomes a pain to manage testimonials and segregate them

And you have 1 space even in the paid plans. So you have to pay $30 extra for each additional project/space
Also, the dashboard becomes quite difficult to navigate as you have more and more testimonials in a single space. There aren't options to choose which testimonials you'd like to have on a pricing page/landing page etc.

Sharing testimonials using Testimonial.to
Testimonial also allows you to share testimonials as widgets and images for use across websites, social media & emails

But it's limited to a few basic widget types and there aren't many customization options

Testimonial's Pricing
Testimonial has a free plan to help business owners & agencies get started but it can become expensive as you grow since you'll have to pay for each additional space

Pros:
Allows you to collect both text & video testimonials
Translation to many languages
Collection forms
Easily share text & video testimonials on widgets
Cons:
Quite expensive as you grow
Extra cost for additional spaces/projects
Complex dashboard & not so easy to navigate
Restrictive free tier & Starter Plus
Not flexible for entrepreneurs, creators

3. Boast
Boast is an all-in-one testimonial platform that makes it easy for businesses to collect video testimonials and feedback from customers.

It focuses primarily on helping you collect the best video testimonials with the least hassle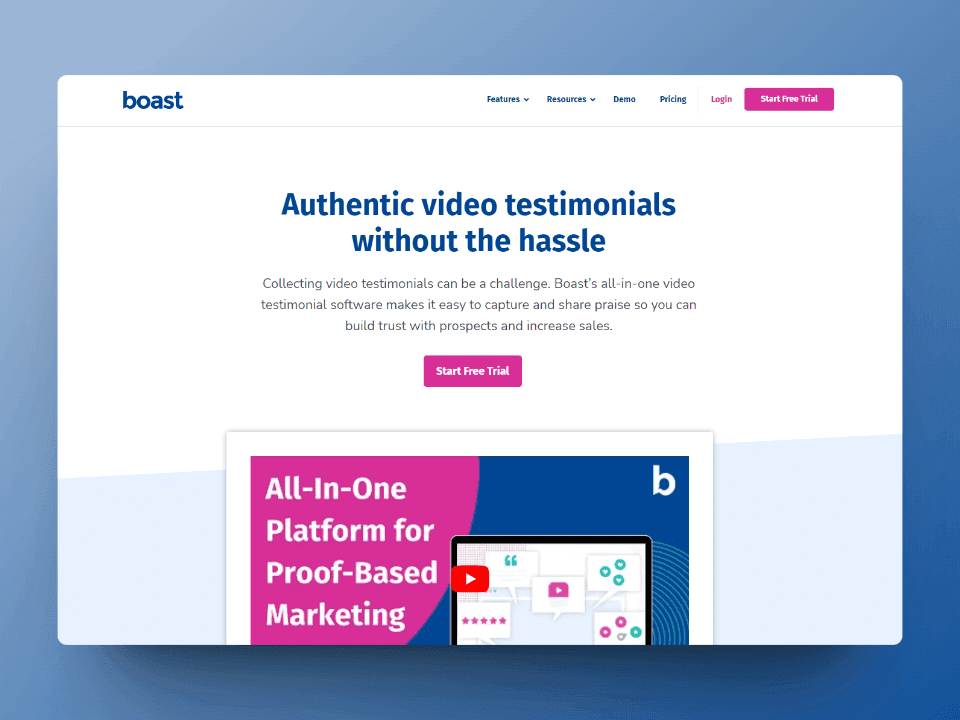 Collecting testimonials using Boast
You can create a testimonial collection form in Boast but it allows you to collect only video testimonials

There isn't an option for text testimonials and you can't add a custom video message either to increase chances of getting a testimonial
You can see the video testimonial responses within your dashboard and approve the ones you'd like to have
Managing Testimonials on Boast
The dashboard has advanced options like searching by name, email address etc but you're limited to managing testimonials for only 1 particular project and it becomes difficult to manage as you grow

Sharing Testimonials using Boast
Boast allows you to share testimonials only using widgets that can be embedded in your website
The widgets have very limited customization and there are only 3 variations of how they appear on your website

Boast's Pricing
Boast does not have a free plan and also has a limit on the number of video testimonials you can collect during each month

Pros:
Focuses on helping you collect the best video testimonials
Has good documentation & support
Video Collection forms
Helps you create surveys, in-app messages, and more
Cons:
Very expensive
Video testimonials Limit. You can only collect a fixed number of videos per month in all plans
Slow and unresponsive dashboard
No option to collect testimonials
No option to import testimonials from social media/review sites
No option to add custom video messages

4. Shoutout
Shoutout is a customer feedback & testimonial platform for entrepreneurs & creators
The best part about Shoutout is that it's got a simple user interface and helps you get started quickly

Collecting testimonials using Shoutout
You can set up a testimonial collection form in Shoutout which allows you to collect text & video testimonials
But the form appears too simple and doesn't have much customization in terms of the fields to collect
Managing Testimonials using Shoutout
Shoutout has a much simpler interface and there aren't many options when it comes to managing testimonials.

You'd only be able to just view the collected & imported testimonials
There are no specific options to sort, rearrange testimonials, or move testimonials from one project to another

Sharing Testimonials using Shoutout
Shoutout allows you to share testimonials as website widgets or Wall of Love links
There isn't any option to create testimonial images or share single testimonials as a link which comes as a serious limitation

Shoutout's Pricing
Shoutout has a free plan to start and also has a less expensive price compared to other testimonial options. But the features are very limited

Pros:
Simple dashboard
Easy to use
Testimonial Collection forms
Cheaper pricing
Cons:
Very limited 3rd party imports
Limited customization options
No option to add custom video messages
No option to organize testimonials across projects
Absence of testimonial images and sharing options

5. Endorsal
Endorsal helps you collect customer testimonials & display them on your website using widgets
It has sophisticated features & pricing that are more suited for companies, enterprises to collect reviews

Collecting testimonials using Endorsal
Endorsal has Endoforms that allow you to collect text & video testimonials from customers.

You can customize the form but you'll have very little control in changing the appearance of the form to suit your brand style

Managing Testimonials using Endorsal
The dashboard is simple and allows you to manage testimonials for a maximum of 1 project. Beyond that, you'll have to separately create an account and pay for another subscription

There are no features like categorizing or rearranging testimonials

Sharing Testimonials using Endorsal
Endorsal has options to share the collected testimonials on widgets which can be embedded on your website or as a wall of love page
This is a great feature as it also has the option to display badges & product reviews

Endorsal Pricing
Each pricing plan has limits on the number of video testimonials you can collect (eg. the Starter plan allows 10 video testimonials and the professional allows 25 video testimonials)
There are no unlimited testimonials in any of the paid plans. As a result, it can get expensive as you scale

Pros:
Plenty of integrations
SMS requests
FOMO Popups
Variety of Widgets
Cons:
Very Expensive pricing & also metered pricing
A lot of restrictions - number of testimonials, views per month
No option for multiple projects
Limited customization for collection pages
No Zapier integration in the Starter plan

Factors to consider when picking a testimonial software
Features: What features are important to you? Do you need software that can collect testimonials from multiple sources, such as your website, social media, and email? Can it help you manage and organize your testimonials? Can it help you display your testimonials on your website and other marketing materials?
Price: How much does the testimonial software cost? Is there a free plan or does it fit within your budget?
Ease of use: How easy is the software to use? Will you be able to collect, manage, and display your testimonials without any trouble?
Customer support: Does the software offer good customer support? Is the company able to resolve all your doubts with quick support?
Restrictions: Does the solution have metered pricing which will become expensive as your business grows? Are there limits on number of testimonials you can collect?

Common Questions about Testimonial Software

1. How do I collect the best testimonial?
To collect the best testimonial using testimonial collection tools, you need to ensure that you ask the right questions to your customers. Your question must primarily revolve around the problem they faced, the solution you offer, and how your solution helped them.

Here are 30 testimonial questions that can help you get started in that direction

Read more about how you can collect the best testimonials
2. What is the best way to show testimonials on a website?
The easiest & the most converting way to display testimonials on your website is using a website widget that blends in perfectly with your website

You can also learn more about how you can increase conversions with testimonials in marketing
3. Are there any Do's and Dont's when it comes to using testimonial collection software?
There are some commonly followed best practices like avoiding fake reviews, highlighting the key text content in your testimonials after collecting them using a testimonial collection software

Here's a list of Do's and Dont's when featuring testimonials on your website

Conclusion
I've broken down all the testimonial collection software in detail along with the pros & cons. You can decide on the right tool for your business based on factors like price, features etc
Hope you found this article useful!
Try Famewall for free to start collecting testimonials from customers with a simple link & display them as social proof on your websites without writing any code