What is User Generated Content Marketing (UGC)?

Goutham Jay
·
Jul 19, 2023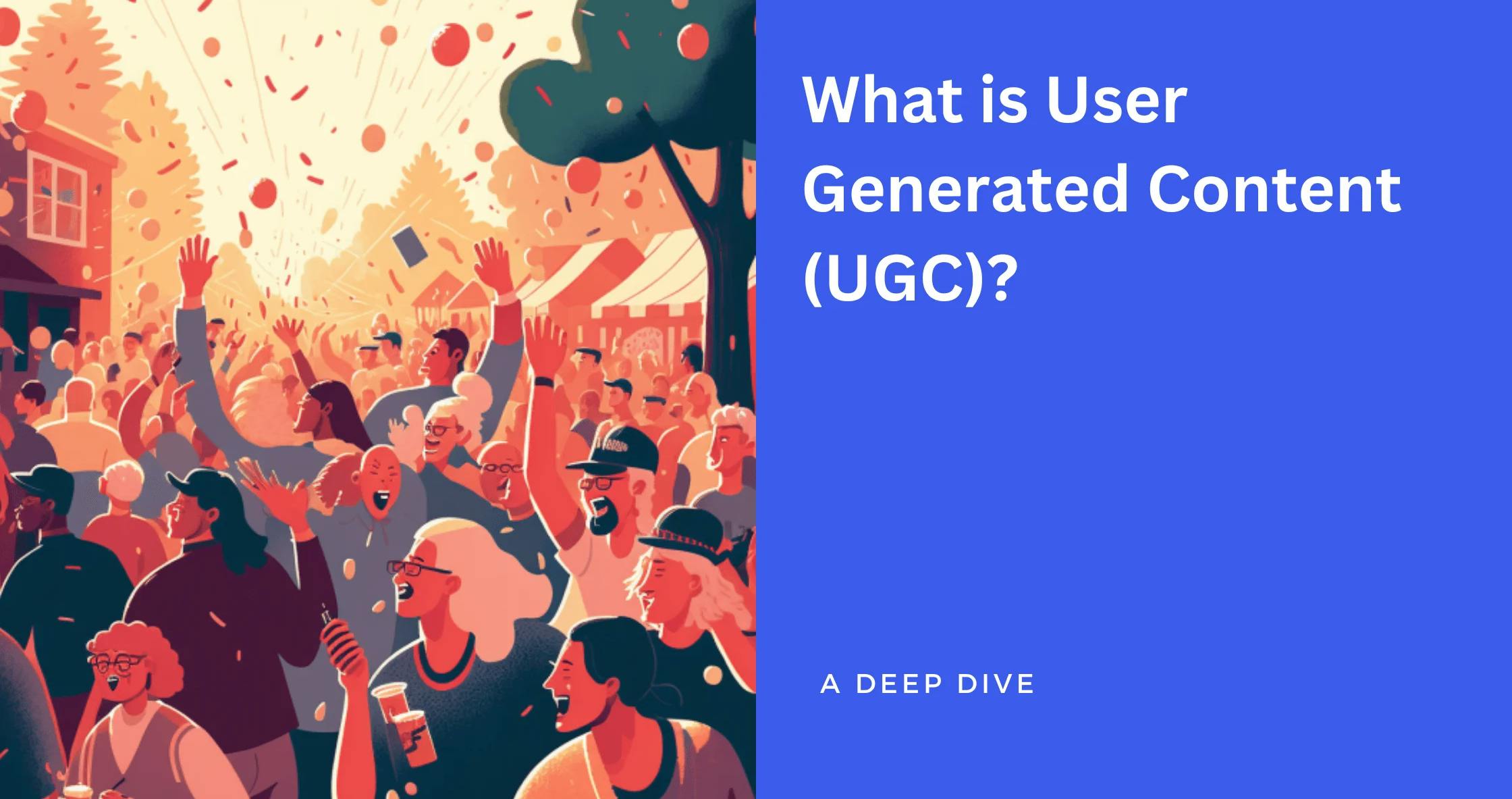 What is User Generated Content (UGC) ?
With the increase in digital & consumer-led products, we get to hear about User Generated Content everywhere 🤯
From customer reviews to photos and videos, UGC is a great way to engage with an enthusiastic audience & generate potential leads. As a result, it helps businesses to deepen their relationships with customers & increase the visibility of their own brand.
Influencers & creators play a big role in creating user-generated content for businesses.

In this article, we'll explore
 What UGC is
 How it can benefit businesses
Examples of user-generated content
Tips for creating an effective UGC strategy for your own business
We'll also discuss how to measure the success of your campaigns and the best practices that need to be followed when it comes to creating & promoting user-generated content.

What is User Generated Content (UGC)?

User Generated Content, is content created by employees, customers, fans, and followers of a brand that is posted on online platforms like forums/social media.
It includes a wide variety of formats like photos, videos, reviews, and more which customers get to share on the internet.
User-generated content posted by an enthusiastic customer of Wendy's

The name explains itself as the content is generated by a user out of their own interests.
Businesses can go on to feature the content posted by their customers on their own profiles/channels which would be a great marketing technique.

UGC is valuable for the very same reason that it's created organically and not paid for or sponsored by brands. As a result, it's more authentic and trustworthy than other types of content.
It helps businesses to deepen relationships with customers, increase engagement on their marketing channels, and boost visibility.
People get to discover products & services from a brand when they see other people talking about their experiences. Hence UGC allows brands to reach new audiences and create a sense of community around their products or services.

Benefits of UGC for Businesses

There are many benefits to utilizing UGC for businesses.
1. Feedback from customers
It's a great way for you as a business to understand what customers think about your products or services. Since it gives customers a way to express their feelings and opinions, it turns out invaluable for brands.
It becomes a bankable channel to get feedback on new product features, and improvements that can be done to win the word of mouth of your customers

2. Build customer relationships
UGC helps to build relationships with customers. When customers see that their content is being featured on your platform, it earns their loyalty and trust for your brand.
This can lead to increased conversions, more sales, and better engagement.
3. Brand visibility
UGC can help to boost the visibility of your brand. When customers share user-generated content on their social media handles, it can help to spread the word about your brand and reach their followers.
Curious customers who were previously unaware of your offerings get a peek at your services when your existing customers talk about your brand. This increases your brand reach.
Starbucks getting exposure for its content with User Generated Content

Examples of User Generated Content

There are many formats of UGC that businesses can utilize.
One of the most popular types of user-generated content is customer reviews. Customer reviews are present on review platforms like Google My Business, G2, and Capterra which were created specifically for this purpose. This adds social proof to your business

Another type of UGC is photos and videos. These can be used to show off your products or services in a creative and attractive fashion. Customers get to create their own photos and videos, which can become an excellent way to showcase your brand's personality and rapport with customers.
Finally, businesses can also utilize UGC in the form of social media posts. Customers share their experiences using your product on social media platforms like Twitter, Linkedin, Reddit etc. This often leads to good word of mouth as their friends/family get to see your product recommendations from someone close to them.
One instance of a local business using UGC for its marketing is an online webinar event that allows its participants to use a specific hashtag. This would drive more visibility to the business as more and more people post content on that specific hashtag

How to Create an Engaging UGC Strategy

Creating an effective UGC strategy is key to utilizing the content generated by users effectively.
1. Identify your goals. Do you plan to utilize UGC to increase engagement, boost visibility, or drive qualified leads for your business?
Understanding your goals will help to guide your strategy and ensure that you're focusing on the right activities.
2. Define your target audience. Who are you looking to target with your UGC?
This is really important as deciding your target audience will determine the type of UGC that is generated. Enthusiastic early adopters are always willing to help out brands. Based on your niche & purchasing behavior, map out the ideal target customer persona.

3. Decide what type of UGC you'll want from your customers. Will you be utilizing customer reviews, photos, videos, or social media posts?
Decide on your preference for a particular content type as early as possible. You can do this by curating your preferred UGC content from customers on your brand's website/social media account. This guides future creators on what they can create.

4. Create a process for measuring the success of your UGC campaigns. What metrics will you be using to measure success?
Use appropriate click & link tracking along with affiliate links to see if the UGC campaigns are helping you drive conversions.

How to Measure the Success of Your UGC Campaigns

Once you've created an effective UGC strategy, you need to know how to measure its success. There are a few key metrics that you can use to track the success of your campaigns.

1. Number of engagements

This includes likes, comments, shares, and more. This is a direct method to understand how the user-generated content is resonating with your audience.

2. Number of conversions

This includes sales, sign-ups, and more. You can use specific tracking links with UTM parameters or affiliate links for that. Tracking this will help you to understand the impact of your UGC on your bottom line.

3. Number of new followers that you gain

A crucial indicator in deciding how effective your campaigns are at reaching new audiences.
Social platforms show unique insights on how many people followed you from a specific post from a customer that you shared.

4. Number of UGC posts itself

The more the number of UGC posts, the more social proof for your business and more customers would love to join the bandwagon of creators describing your product. This ends up as a win-win for both the business & the customer.

Best Practices for UGC Creation and Promotion

When creating and promoting UGC, there are some best practices to keep in mind.
More often than not, customers are always happy when you use their content for marketing. But it's never a bad idea to ask for permission before featuring the posts on your platform.

Create guidelines for UGC creation and link to them on your website. This will help to ensure that the content created is on-brand and resonates with your target audience.
Create a process for reviewing and approving UGC. This will help to ensure that the content you're featuring is of high quality and resonates with your target audience.
Ensure rewards/gifts for customers when customers submit UGC. This will win their loyalty to your brand.

Tips for Engaging Your Audience with UGC

Engaging your audience is key to creating an effective User-Generated Content strategy. Here are a few tips to engage with them:

1. Create interesting content & interact with customers

You get business from customers as you give value to them. Create interesting content which would be informative & fun for your customers and reply to their questions and feedback that they post on your content.

2. Create incentives for customers to create UGC

This can include offering discounts or free products in exchange for user-generated content. Customers feel valued when you give them rewards as encouragement.

3. Make it easy for customers to create UGC

This can include creating an easy-to-use upload form like the collection page on Famewall where customers can upload text reviews or record video testimonials directly.
Video testimonials can also act as user-generated content. This guide would be useful for you to collect video testimonials from customers

You can also provide a hashtag for customers to use on their posts

4. Create contests or challenges for customers

This can help to increase engagement and get customers excited about your UGC campaigns
Giveaways and prizes for contestants can also increase your brand visibility

5. Respond to customers' UGC

This will create a special bond between your business & your audience. They'll feel that they're a part of one big community and be enthusiastic about what you have to say.

User Generated Content Services

There are many services available that can help businesses with their UGC campaigns.
One of the most popular services is Famewall. Famewall helps you to create, curate, and promote user-generated content.
It offers a variety of features It's a great option if you'd like to take your UGC campaigns to the next level. You can import reviews from multiple social media platforms like Twitter, Reddit, Linkedin, Google Business etc. all in one place. 
These can then be added to your website upon customizing their appearance for your brand

Famewall Dashboard

The bonus is that you can also collect reviews from your customers directly with a custom collection page where customers can submit a text testimonial/video testimonial which you can approve in a single click
Testimonial Collection Page

Try Famewall for free! You don't need a credit card to start :)

Final Tips for Utilizing UGC

When utilizing UGC, there are a few final tips to keep in mind.
Always give credit to the creator of the content. This will ensure that you're respecting the rights of the creator and giving them proper recognition for their kind gesture.
Respond to customers' UGC as soon as possible. This is an easy opportunity to win customer trust & loyalty

Stay aware of the rules and regulations of UGC platforms. This will help to ensure that your campaigns are compliant and you're not violating any terms of service.

Conclusion

User Generated Content (UGC) is a powerful tool for businesses to build relationships with customers and increase their brand visibility. From customer reviews to photos and videos, it is a great way to engage with an enthusiastic audience.
With UGC, businesses can increase sales, build relationships with customers, boost visibility, and gain insights into what their customers think. If the right strategies are used, then businesses can create effective UGC campaigns that drive amazing results.
Try Famewall for free to easily collect & manage testimonials from different platforms all in one single place & add them to your websites to turn them into a powerful marketing asset!