How Fed built a successful business with Gummysearch

Goutham Jay
·
Oct 12, 2022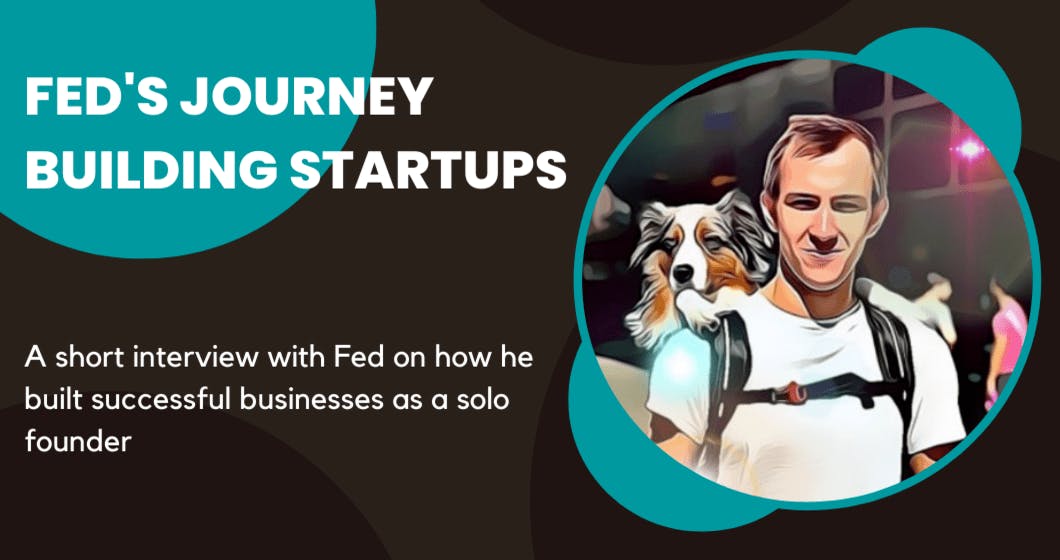 How Fed built a successful business with Gummysearch
This is a weekly series where I interview entrepreneurs & creators overcoming their challenges & building a business from scratch.

Fed is a solo startup founder who's currently building 2 products - Gummysearch, an audience research tool focused on Reddit & The Hive Index, a curated list of communities on the internet.

Entrepreneurs face a lot of hurdles during the early stages & just like that Fed had his own challenges growing his products & establishing a successful business.

I had a chance to interview Fed, which is briefed below in 5 questions. Cheers to Fed for doing this 😉

1.  How did you get started with building GummySearch & Hive Index?

I originally built the Hive Index as a "warm-up project" when I went indie. I was inspired by Pieter Levels' "12 startups in 12 months" and saw how he got really good at building products just out of repetition.
My ambitions were to build a SaaS product, but I wanted to start out by launching something smaller first. I was inspired by online communities and noticed that there wasn't a good directory of them, so I built & launched the Hive Index in 2 weeks.
People loved my site when they visited it, but not many people knew it existed. So I would spread the word on Reddit.

I found that there were a lot of people asking for entrepreneurship communities, discord chat servers for their interests, and forums of various types. Hence I made some scripts to find these conversations, where I'd chime in & point people towards the Hive Index.

This community marketing worked really well. Folks appreciated it when I directed them toward my site, and I started getting some excellent traffic. Eventually, I decided to open up my internal tool to others, and that's how GummySearch came to be.
After I launched GummySearch, an amazing thing happened. People started using it for other use-cases than just social listening. It was used to come up with business ideas, validate market demand, and generate content ideas.

This surge of inspiration & user feedback has helped craft GummySearch into the full-scale audience research platform that it is today.

2. Are you working full-time on GummySearch? How do you manage to work on your projects as a solo founder?

I'm bootstrapping GummySearch & the Hive Index part-time. For the rest of my time, I consult for early-stage startups as a fractional CTO. This mix of bootstrapping and getting income works well for me, as I have the runway I need to make the best long-term decisions for my products, while also having the time & energy to pursue my own ventures.
I love building products, and I primarily build ones that I can use myself. This helps with motivation to continue building.
On top of that, getting paying customers is always something that further fuels me to improve my products.

3. How did you get your first 10 users?

My first customers came from dogfooding my own product, GummySearch. One of the things it does well is help find leads from Reddit when people talk about things that your product can help with. This comes in the form of expressing pain points, asking for tool recommendations or complaining about competitors.
By setting up proper keyword tracking using GummySearch, I can market for just 10 minutes a day by responding to relevant conversations on Reddit. It has proven to be an incredible ROI on marketing time spent. I like this approach because this saves plenty of time for me to do what I love, and continue to improve the product :)

4. What was the turning point for your business - Gummysearch?

A couple of months ago I ran an experiment by launching a Lifetime Deal for GummySearch. This ended up being a huge turning point for the product, as I went from 25 to 325 paid customers in 2 months. This fueled the business with revenue, user feedback, and ideas for growth.

For a full recap of my LTD learnings, check out this Twitter thread.

5. Your advice to entrepreneurs & indie hackers

Who are trying to grow their business?

Stay in tune with online communities full of your target customers. This is a great source of business ideas, competitive intel, and new customers.


Who are just starting out?

Play the long game. Make sure you give yourself the runway to succeed, as it might take a couple of years to fully sustain yourself off of your bootstrapped products, so it's best to plan for that with your financial situation, daily habits, and frameworks for making incremental changes to your business.

Where can people learn more about you?
You can find me on Twitter - @foliofed on Twitter
GummySearch blog on ideating businesses, validating solutions, and finding customers from online communities

Products Links:
If you'd like to receive more such interviews every week directly to your inbox while also creating beautiful testimonials with no code in just 2 minutes, check out Famewall where you can sign up for free