How Danny Collects Testimonials for His Portfolio Companies with Famewall

Goutham Jay
·
Jun 19, 2023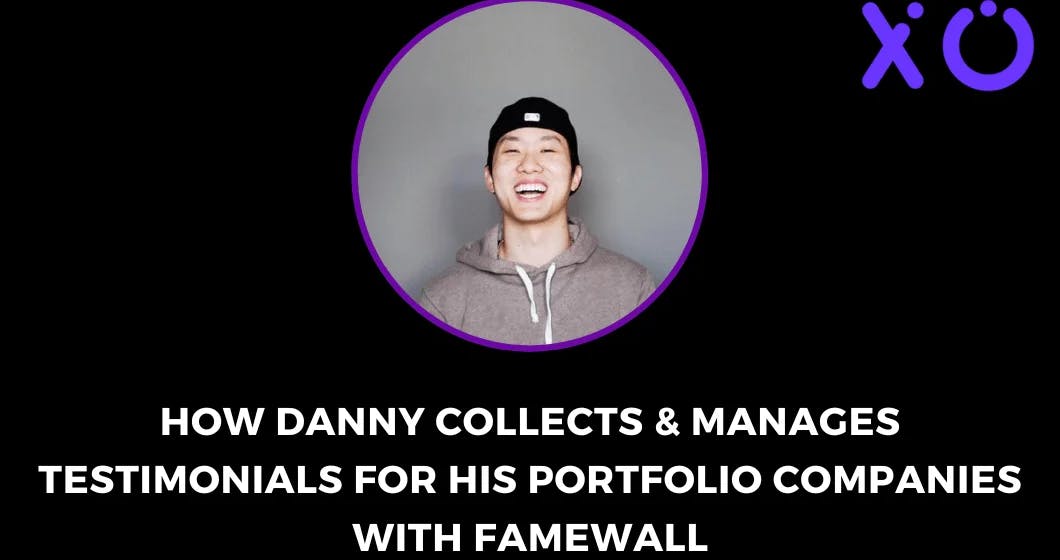 How Danny Collects Testimonials for His Portfolio Companies with Famewall
Danny Chu is an entrepreneur who has successfully built and exited a startup in the past. He's currently running a business that has a portfolio of SaaS companies under it.
Danny and his team have been using Famewall to collect & manage testimonials for their business which has increased conversions for their businesses
Let's hear the story from his own words:

- Hey Danny. Could you introduce yourself?

My name is Danny, and I'm cofounder of xo.capital.
I previously bootstrapped Noteninja and got acquired by SalesLoft back in 2018.

Now, I'm building a portfolio of profitable Saas companies with Henry and Andrew.

- As a startup founder, why did you need testimonials?

Testimonials provide validation to our leads & prospects.

Especially since we're running product-led growth companies, having the ability to use our existing customer base to increase the conversion of free users to paid using testimonials is a very scalable approach for our businesses.

Also, as bad as this may sound, it is also awesome to get even bad testimonials because it provides helpful feedback to improve the business.

Full transparency… we don't post bad reviews on our Famewall but use it as a resource to improve our business. So it's a win for us either way :)

- What challenges did you face before using Famewall to manage testimonials?

We were using tools to collect NPS submissions from our customers
(Note: Net Promoter Score is a research metric that is based on a single survey question asking respondents to rate the likelihood that they would recommend a product, or a service to a friend or colleague)

We did manage to get high NPS submissions.

However, the problem was that once we got a high NPS submission, we couldn't get those users to convert to submitting a testimonial that we had built using Tally forms.

- How was the process after using Famewall?

It was an extremely smooth process to use Famewall for our businesses.

We have spread Famewall's collection pages all throughout our onboarding flows, websites, and in-app to collect text testimonials directly from our customers

- How are you currently using Famewall for your businesses?

As mentioned before we're using the Testimonial collection page available on Famewall to collect text & video testimonials from customers of our business

We are using the wall of fame & testimonial widget features from Famewall for all our portfolio companies

You can see them for yourself over here:
https://www.screenshotapi.net/#wall-of-love
https://sheet.best/#famewall
https://colddm.me/#famewall
https://www.inlytics.io/#wall-of-love

- What do you like the most about Famewall?

It's just so easy to set up. And it handles the entire testimonial workflow for us.

It's as easy as it is to build one using a hodgepodge of complex tools.

It is quite amazing to have something so simple like Famewall managed in a single interface.

- How have your conversions improved after using Famewall?

It has helped us with conversion and overall sign-ups. And it has also increased conversions from free users into successful & happy customers.

We've used the testimonials we get from Famewall to engage users for bigger, more detailed customer stories that we leverage in our blog to drive organic traffic via SEO.

We've observed that this works & we do this for every one of our portfolio companies.

- What advice would you give to other businesses considering our product?

It's priced very competitively compared to solutions in the market while providing the best options for both video + social + text-based testimonials.
Highly recommend Famewall to anyone checking it out

- Where can other entrepreneurs learn more about you?

Dannyychu on Twitter
Start using Famewall for free to collect testimonials from your customers & display them in multiple ways to increase sales, conversions for your business in minutes