How Content Marketer Kuba uses Famewall to close more Customers with Testimonials

Goutham Jay
·
Aug 23, 2023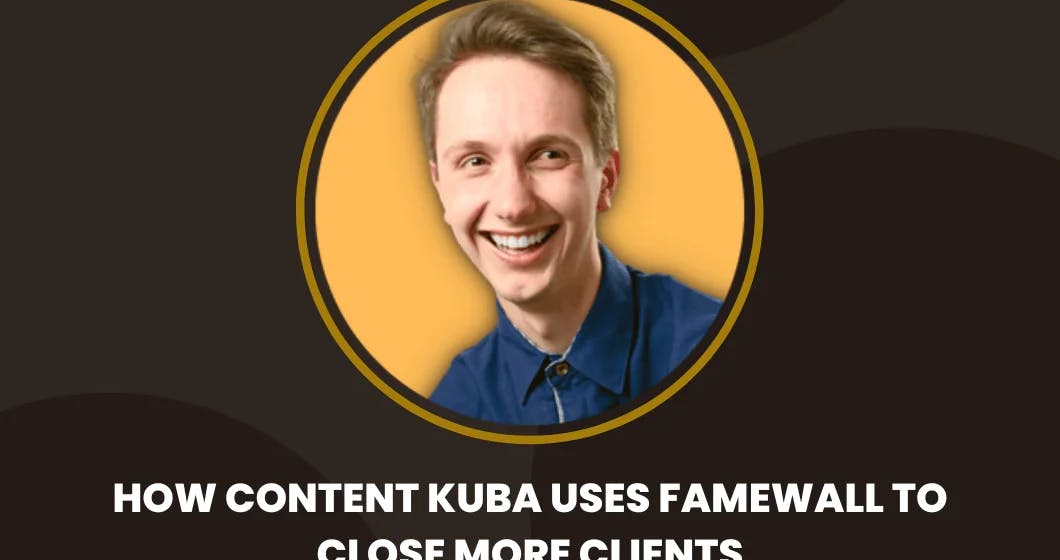 How Content Marketer Kuba uses Famewall to close more Customers with Testimonials
Kuba(popularly known as Content Kuba) is a solopreneur who works with small businesses, entrepreneurs & startups with their content marketing strategy
Kuba has been an amazing customer of Famewall and here's how Famewall has been useful to him as a solopreneur to manage testimonials while also getting more clients for his business

- Hi Kuba. Could you introduce yourself?

Hi, I am Kuba, I am 23 years old. I went from being an actor to a solopreneur to a content marketing consultancy owner.
When I began in 2022 in content marketing I did not know anything. I just quit a terrible job. I found a position in an HR-tech SaaS as a Junior Content Marketing Specialist.
And I got curious about what that position may entail. So, I applied, and at the end of the following week, I began working.
But I didn't know what I was doing. So, I started working hard to catch up. I bought plenty of books. I got a couple of courses. I was learning, and learning.
And after three months of consistent work, I was promoted to content marketing specialist. Since then, I got more confident in my skills and started sharing my lessons online.
That's how I became Content Kuba.

- As a content marketer, why did you need testimonials?

Testimonials are one of the best forms of social proof for anyone.
Since I have a consultancy business where the relationship between the consultant and the client is crucial, testimonials serve as an essential part of my sales process.
I use them all over my social media, in my proposals for clients, on my website, and even in my blog posts.
So, this is something that helps me make my clients feel more secure about my services. Testimonials make my clients feel they can trust me with their business and their content marketing.

- What challenges did you face before using Famewall to manage testimonials?

First of all, I didn't have any process behind gathering testimonials for my business.
I didn't know how to ask for testimonials because it seemed like I didn't have any place to manage them all.
I didn't have any place to send my clients to leave me testimonials, so I struggled to even ask for anything. I felt unprepared.
So when I got Famewall, I felt like I finally had a professional way of asking people to leave me a review.
This is much more convenient and shows I am more serious about testimonials.

- How was the process after using Famewall?

For me, right now the process of gathering testimonials is automated. I have an email sequence prepared for my clients.
After 3 months of working together, I ask them for a review via Famewall.
It takes the pressure of remembering testimonials off my plate.
Also, what I really admire about Famewall is that it helps create those nice-looking graphics from testimonials.
I love that I can just take them and generate a pretty social media post out of them in seconds.

- How are you currently using Famewall for your businesses?

I've been using Famewall to gather testimonials on my website.
I use it while planning my social media content. I post at least one testimonial a week on my socials to make sure my followers see the effects of my work. 
I use them in my blog posts as a form of building authority around my expertise. I also use them in my proposals.
Each time my clients get a proposal from me, I include some testimonials from my clients that are relevant to do their business.

- What do you like the most about Famewall?

I like the ability to export specific testimonials to JPEGs, and showing them on social media in seconds.
I really enjoy the customizability option of the Wall of Fame. I could adjust it to my website's branding in seconds.

- How have your conversions improved after using Famewall?

 I saw a massive improvement in the number of people setting up calls with me via my social media. 
People like to read real-life customer stories and Famewall allows me to share them in the most effortless way possible.

- Where can others learn more about you?

You can find me on https://contentkuba.com/ and apart from that here are the social media handles:
Social proof is the biggest marketing tool you can use as a business owner to improve conversions & sales.
And Famewall comes to your rescue providing all the features necessary to collect social proof & monetize them.
Here's a detailed guide on how you can use testimonials to power up your marketing to see improved results
Start using Famewall for free to collect testimonials from your customers & display them in multiple ways to increase sales, conversions for your business in minutes