How Avery Smith built a successful course around data analytics

Goutham Jay
·
Dec 9, 2022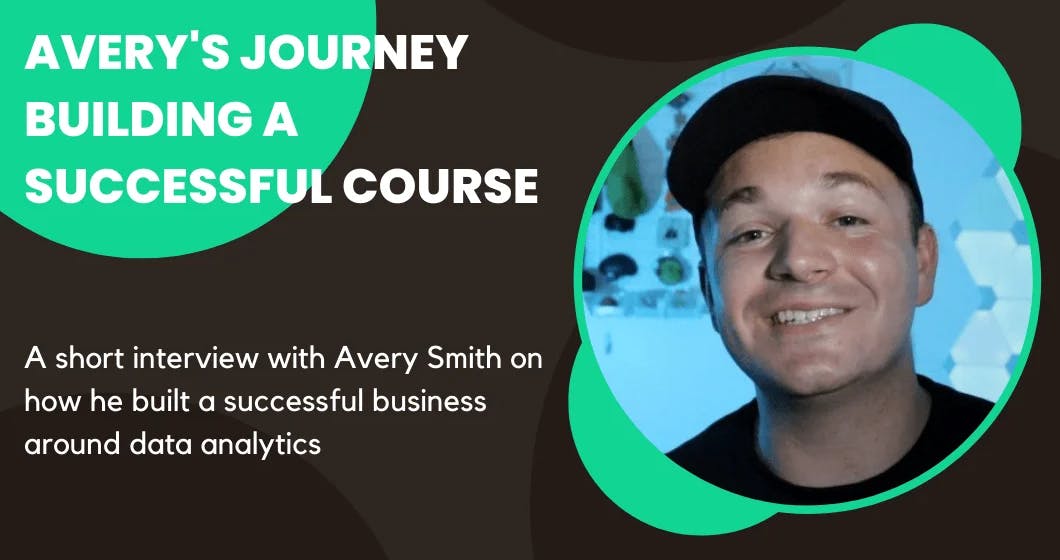 How Avery Smith built a successful course around data analytics
This is a weekly series where I interview entrepreneurs & creators overcoming their challenges & building a business from scratch.
Avery Smith is a course creator currently building Data Career Jumpstart to help students start their own data careers & transition to high-paying jobs in data science

Here we go through a short 5-minute interview to understand more about his journey. Cheers to Avery for doing this ✨

1.  How did you get started with building Data Career Jumpstart?

I studied Chemical Engineering & worked as a chemical lab technician but really didn't enjoy what I was doing.

I discovered data science & became hooked upon learning more about it. I self-studied, landed a data scientist job, & eventually got a Master's degree in analytics.
I started Data Career Jumpstart by wanting to help people who wanted to go through a similar career pivot as I did. 

I thought my pivot could have been more optimized & I decided to create a program focused on learning the necessary skills & land a high paying data science job

2.  How was your experience learning to code from scratch & then transition to machine learning?

I actually wrote my first line of code when I was in 6th grade, and then coded somewhat regularly in college as an engineer. 
But it wasn't super easy. There were definitely nights when my code was NOT doing what I wanted it to, and as a result, I spent hours debugging. 
Going from more basic coding to data science & machine learning also had its own challenges. But practice makes perfect :)
I think I've hit the 10,000-hour mark & now that advanced coding is more routine.
But don't get me wrong, I still use Google & StackOverflow all the time!

3.  What made you realize the love for teaching data science?

Honestly, it's just such a cool topic & I love sharing what I think is cool. 
Also, it really pays off for me when my students go from making $40,000 to $80,000 in a few months.
To help someone reach that life-changing amount of money is the best feeling. 

4.  You also have a Youtube channel on cool topics centered around Data Science. How do you keep up with the youtube creator journey while also running a business?

Honestly, I don't really. It takes at least 4-6 hours to make a video.
But I know YouTube is very important in terms of brand recognition & traffic so I recently dedicated an entire month to YouTube where I built 30 data science projects in 30 days. 
It was an absolute grind & I really couldn't do much more than the campaign, but it took me from 1.5k subscribers to 6.5k. 
And the best part is, those videos are all VERY evergreen & will continue to provide my viewers' value year after year.

5. What advice would you give to entrepreneurs/course creators who are trying to grow their business & to those who are just starting out?

Who are trying to grow their business?
I think if you have a business or course that is already established & you're trying to grow, the biggest advice I'd give is to invest in yourself, your learning, & your network. I always find that when I'm learning from others, I make more money. 
Who are just starting out?
If you're just starting out, start small. Build an audience (I think LinkedIn, TikTok, YouTube Shorts are the best places right now), and launch a small, affordable offer. Build from there. 

Where can people learn more about you?

You can find me on LinkedIn - Avery Smith
Course Page: https://www.datacareerjumpstart.com/
Youtube Channel on Data Science: https://www.youtube.com/c/AverySmithDataCareerJumpstart
If you'd like to receive more such interviews every week directly to your inbox while also creating beautiful testimonials with no code in just 2 minutes, check out Famewall where you can sign up for free