How Ev Chapman Automates Collecting Testimonials for her Business with Famewall

Goutham Jay
·
Aug 23, 2023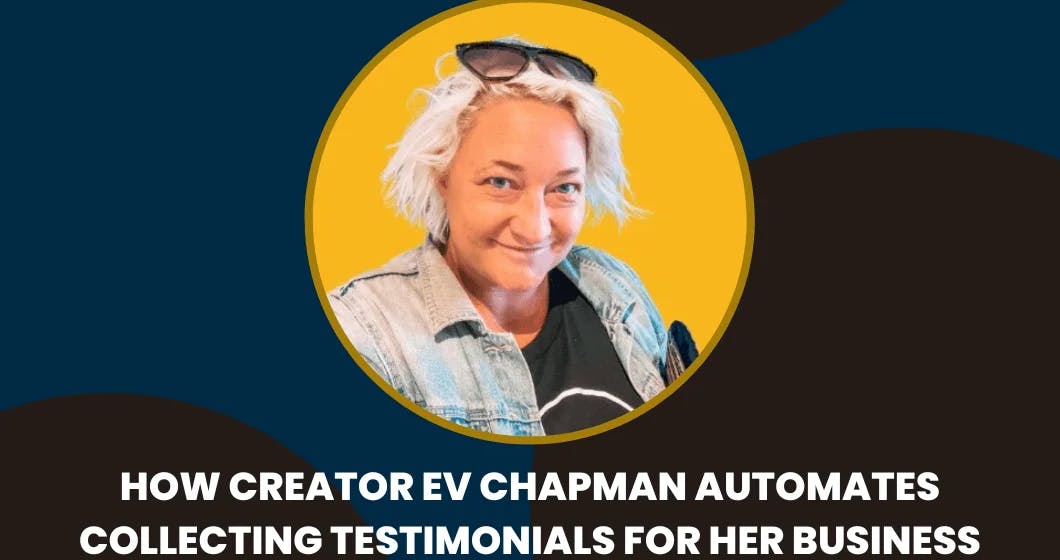 How Ev Chapman Automates Collecting Testimonials for her Business with Famewall
Ev Chapman is a digital product builder & a content creator who's been active for 10+ years. And we're super excited to learn from her experience on how she collects testimonials & automates her workflow

- Hey Ev! Could you introduce yourself?

My name is Ev Chapman. I am a writer and creative entrepreneur.
I help creators build, share & monetize their knowledge.
I currently have two courses Tana Fast Track and the Daily Creator course, plus a whole host of digital products that I've built on Notion and Tana, to help creators be able to build and share their knowledge online.

- What were some of the challenges you faced before using Famewall to manage testimonials?

Before I used Famewall I had the problem of trying to collect testimonials in an easy way for customers & for myself.
I had like a rigged-up system that used Tallyforms to collect testimonials and a make.com automation to send me a notification when a new testimonial was added.
I would then have to update that on the landing page or throw it in Canva & create a design.
And so it was just a whole lot of steps actually to just get testimonials.
I think it probably stopped me from getting a lot of testimonials in the very beginning for my products because it felt like such a hassle.

- How was the process after using Famewall?

Now that I use Famewall, I have very little to do in the actual process. So within my courses, I have a link to it in one of the modules.
And people just go and they write their their testimonial and then I just get an email and I can approve it and send it to the wall. And because I use the embedded wall it updates anywhere I have that embed. 
It's saved me so much time and made the process so easy for me & for my customers.

- How are you currently using Famewall for your businesses?

I use the collection page in each of my courses and products. For my courses I just have the link in a module towards the end. In my products I send an email a week after they have purchased it.
And then I use the widgets on my landing pages to easily get the testimonials to show up.

- What do you like the most about Famewall?

It was so easy to set up, I could get it working with my Notion website.
And I'm always preferential to a product where I can go directly to a creator and ask for new features. That is always a HUGE bonus.
I think the price point also makes it great for indie creators.

- What were some observations after using Famewall?

 I have people who reach out to me from time to time and ask me about what I'm using for testimonials - because they've heard me talk about it or because they've seen it on my website.

- Where can other entrepreneurs/creators learn more about you?

Twitter: twitter.com/evielync
Website: evchapman.com
Newsletter: https://dailycreator.substack.com/
Famewall is the #1 tool for entrepreneurs & creators to collect testimonials from customers & display social proof in multiple ways
Try Famewall for FREE & increase your sales, conversions by collecting & displaying social proof from a single place