Employee Video Testimonials: How to Collect them for your Company

Goutham Jay
·
Jul 19, 2023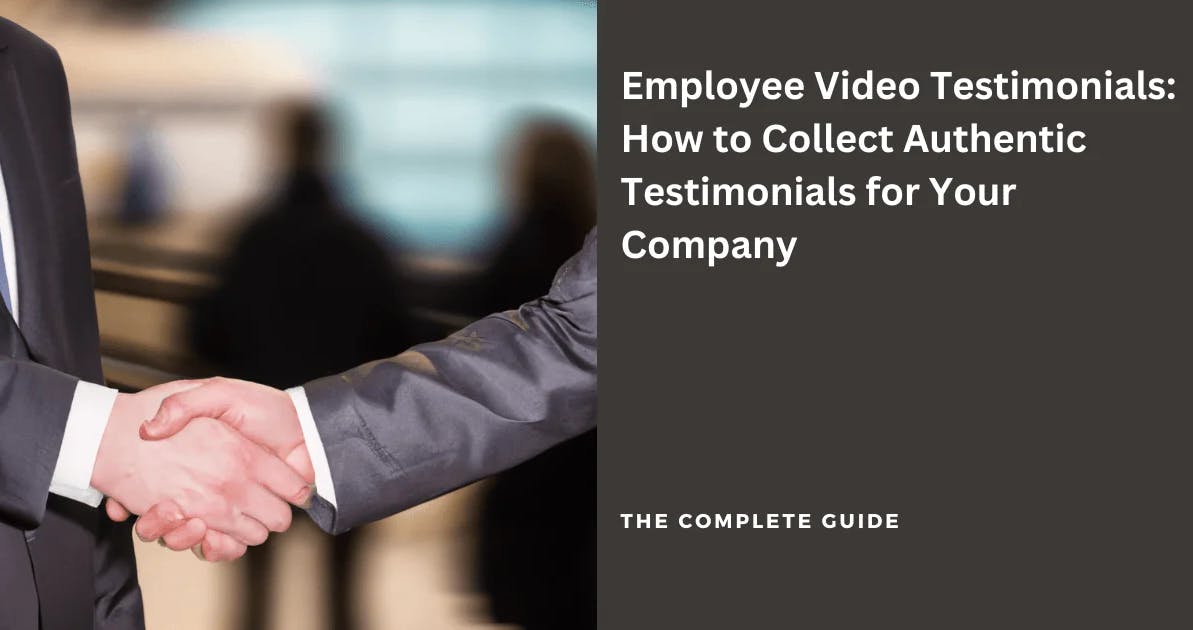 Employee Video Testimonials: How to Collect them for your Company
Employee video testimonials are a powerful tool for companies looking to attract and retain top talent.
According to research conducted by G2, the following facts are important for employers to consider

77% of job seekers consider a company's culture before applying for a job
92% of candidates would consider changing jobs if offered a role with a company with an excellent corporate reputation.
Now we're clear that a company's culture and reputation are really important for an employee to consider working. And what better way to build trust and reputation than showcasing video testimonials?

The video testimonials feature employees sharing their experiences about working for your company and you can use them for recruitment, employee engagement, and employer branding.
In this article, we will explore the benefits of employee video testimonials and tips for collecting effective employee testimonial videos.

What is an Employee Video Testimonial?

Employee video testimonials are short videos featuring employees who share their experience working for a particular company.
They can be collected from employees during times like individual employee interviews, group discussions, or voluntary recordings featuring multiple employees.
These videos aim to give potential employees an inside look at a company's culture, values, and work environment.
Employee video testimonials offer several benefits for employers such as

increased brand awareness
improved recruitment efforts
better employee engagement during their work tenure

As a company by showcasing these videos, you help potential candidates understand what it's like to work for your company and decide if it's the right fit for them

How to Collect an Employee Testimonial Video?

Collecting employee testimonial videos can be a powerful way to showcase your company culture and build your employer brand. Here are some tips for how to collect effective employee testimonial videos:
Before you start filming, make sure you have a clear plan for what you want to capture in the video testimonials.
This includes deciding on the message you want your employees to convey, the length of the video
Choose your target employees:

Identify which employees you want to feature in your video testimonials. Consider choosing employees from a range of departments and positions to provide a more diverse perspective.


Prepare questions:

Develop a set of questions that will elicit the type of responses you're looking for. These questions should be open-ended and encourage employees to share their personal experiences.

We will discuss the questions to ask in the next section below
Send them a testimonial collection link
You can use Famewall to create a custom testimonial collection form which makes the entire process neat and simple so that you can quickly collect testimonials from your employees and manage them all in a single place to approve.

Here's how it looks
Here's how you can collect video testimonials from scratch

Once you have captured the footage, take the time to edit it thoughtfully. Trim the video to the desired length, add captions, and include a call to action that encourages viewers to learn more about your company.


What Questions Should I Ask My Employees in Video Testimonials?

When creating employee video testimonials, the questions you ask can make a big difference in the quality and impact of the final product.
Here are some questions to consider asking your employees which you can write in the Testimonial collection form

What is your role at the company and how long have you been here?
What do you enjoy most about working here?
What makes our company culture unique?
Can you share a specific experience or project that you're particularly proud of?
How has working here helped you grow professionally or personally?
What would you say to someone who is considering joining our company?
What sets our company apart from others you've worked for?
How has working here impacted your life outside of work?
It's important to ask open-ended questions that encourage your employees to share their personal experiences and insights.
This will help to create authentic video testimonials that will resonate with potential candidates and also showcase the positive aspects of your company culture.

Why Use Employee Testimonial Videos?

As we discussed before, employee testimonial videos can be used in a variety of contexts including recruitment, employee engagement, and employer branding.
These videos can improve recruitment efforts by providing potential candidates with a glimpse into the company culture and work environment.
Additionally, employee testimonial videos can enhance your employee engagement by showcasing the accomplishments of current employees, which can inspire and motivate them to perform better in their jobs and get rewarded

These employee testimonial videos enhance your organization's employer brand by highlighting the unique aspects of your company's culture.
By sharing these videos on social media and other platforms, as an employer, you can increase brand awareness and attract top talent.

Sharing a Good Testimonial Example

When sending a testimonial collection link, it's also advisable to send a testimonial example for reference
Send a reference testimonial given by an employee that shows specific experiences and accomplishments that demonstrate the value of working for the company.
Some tips for selecting an example employee testimonial include:
Make it concise and specific: Keep the reference testimonial short and to the point.
Use language that is relatable: Use language that potential candidates can relate to and that reflects the company culture.
Highlight the company culture and values: Showcase the unique aspects of the company culture and values, and how they align with the employee's own goals and values.

Employee Video Testimonial Best Practices

Creating effective employee video testimonials requires attention to detail and a focus on key best practices. Here are some dos and don'ts to keep in mind:
Dos:
Do plan and prepare before initiating the testimonial collection campaign to ensure that the video captures the key messages and elements.
Do choose employees who are enthusiastic & articulate about working for the company.
Do encourage employees to be authentic and personalize their testimonials.
Do frame the questions in such a way that it reflects the company culture and values, and how they align with the employee's own goals.

Don'ts:
Don't use overly scripted language or force employees to say specific things.
Don't choose employees who are not passionate or articulate about working for the company.
Don't forget to obtain consent from employees to appear in the video.
Don't try to edit the testimonial videos a lot in such a way that the context changes as that might also bring in legal trouble

When asking for employee video testimonials, here are some additional best practices to consider:
Ask them to keep the video short and focused, typically between 1-3 minutes in length.
It's better if they use a good-quality camera with appropriate lighting and sound quality.
Consider adding captions or subtitles to make the video more accessible to a wider audience.

Conclusion

Employee video testimonials are a powerful tool for employers to attract top talent, engage employees, and enhance employer branding.
By following best practices for planning, filming, and editing these videos, employers can create impactful and authentic testimonials that showcase the unique aspects of their company culture and values.
So, whether you're a SaaS business, a startup, a small business owner, or a large corporation, don't underestimate the power of employee video testimonials in your recruitment and engagement efforts.
Start using Famewall to collect testimonials from your employees and also aggregate already existing ones from 15+ social platforms. Then display them on a wall of love

The best part is that Famewall has followed all the best practices to make the best out of your testimonials. You can just copy & paste a collection page link with minimal setup