Introducing Brand Pages for presenting your Link In Bio with Social Proof

Goutham Jay
·
Mar 3, 2023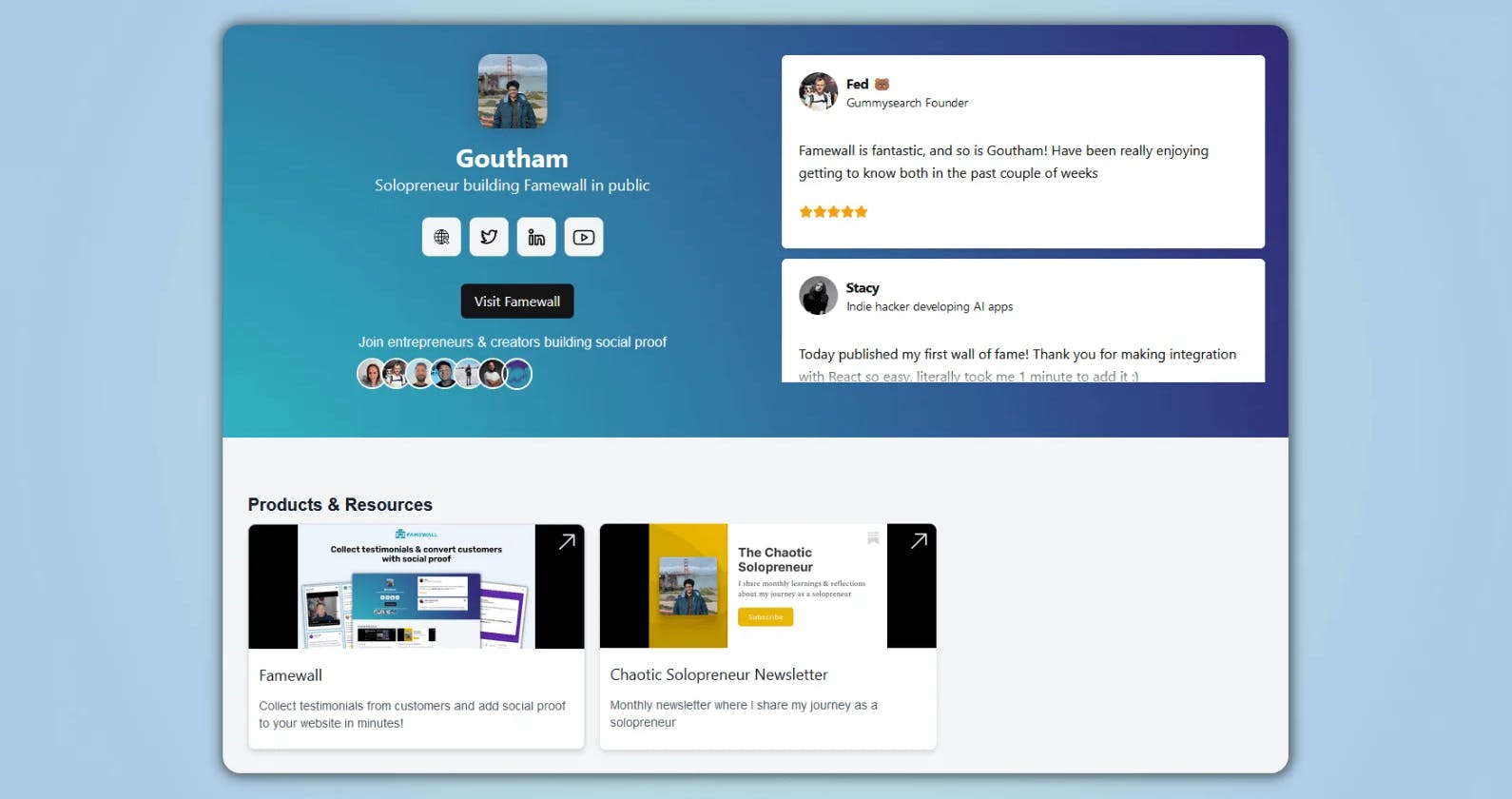 Famewall Brand Pages
You might be well aware of the fact that collecting testimonials from your customers is a good thing. You can share them on your website & with potential customers to establish your brand's credibility and convince customers who're still on the fence
But what if I told you, that you could also put the social proof to work 🤯
Introducing Brand Pages on Famewall. And here is a sample brand page built using Famewall: Sample Brand Page

What are Famewall Brand Pages?

Famewall Brand Page helps you display the products and services you offer along with a quick call to action.
The added advantage is that you can also display social proof alongside your portfolio of products and services using testimonials and avatar widgets which you've already collected using Famewall

Why Famewall Brand Pages?

Famewall's Brand Pages are a great alternative to your traditional Link in Bio Pages
Having social proof besides your portfolio would convince your customers way before they even visit your website and build up a reputation for your brand. Best of all, it creates a good first impression
And yes, it's 100% mobile friendly
Custom Branding with testimonials and Brand Style

Famewall's Brand Pages are fully customizable. Here's how you can customize it to suit your brand's style
You can also connect your custom domain and make it suit your brand style by customizing the text color, setting up dark mode etc

Displaying your products & services

Showcase all your products and services in the Products section. In case you have some well written blogs, just link to them and briefly describe the ones that you'd like potential customers to visit
Your Link in Bio pages have just gotten an upgrade. Build your Brand Page for free on Famewall right now!
Try Famewall for free to collect testimonials and put your social proof to work by displaying them on websites, standalone sites and much more!