How to Delete Google Reviews?
Updated on Sep 16, 2023
First of all let's make it clear that it's not a good idea to delete reviews on Google as a Business owner. Customers trust Google reviews to make purchasing decisions
And it's also in the fair interest of Google to maintain the authenticity of reviews so that customers get the best experience
So if a customer drops a negative review, it's best to respond to the customer directly by showing them how you would do things better next time. This would build transparency with your customers and reduce the impact of a negative review
For instance, look at this negative review left by a customer for a restaurant in Google Business
Here the owner responded with genuine concern since the customer was unhappy and was even ready to find a remedy for this issue. This shows to other customers reading the reviews that the business genuinely cares about the customers & in fact increases sales
Let's be honest. Nobody's perfect. Mistakes do happen in business and as a business owner we need to find the best solution to their problems
But there are times when as a business owner, you'd want to delete certain bad reviews on your Google Business. They could have been left by fake bots or competitors with malicious intent or by people with hidden agendas.
In such cases, if it violates their policies, Google will also take stringent action to ensure there's fair play and small businesses are supported in a good way
Deleting Google Reviews as a Business Owner:
As a business owner, you'll be able to report a Google review in case it violates Google's content policy. Google gives you tools to flag such a review and let their team know about this issue
1. Navigate to Google Business account
Simply head over to support.google.com/business/answer/4596773 and select the "Request review removal" option
And then select the Business which you have listed on Google which has the review you want to report
And then select "Report a new review for removal" option in the next step
Then select the review which you'd like to report to Google
Then finally select the reason why you want to report the review
Once you're done, Google will be notified and perform a review of the report you just submitted and if it violates their content policies, the review would be removed
What to do if Google rejects your review removal request?
1. Reaching out to existing customers

There are chances for Google to reject the removal request iif they find that the review didn't violate their content policies. In such cases, the best way to proceed would be to get your existing customers to leave new reviews if they were really satisfied with your service
In case you have customers who love your business, you can mention the issue to them about what caused the negative review (eg. if a customer was displeased by a support executive who was fired) and let them know how you've improved the service since then and how a new review would help your business
Keep in mind, that you're not influencing the customer's review but just asking if they'd be able to leave a review with the updated measures in place

2. Getting new reviews from customers
The problem with a malicious negative review is that it comes up on top when customers select "Newest reviews"
So for this case, the best remedy would be to get newer reviews from new customers who enjoyed your service or found it helpful. This would ensure that the overall rating becomes balanced
At the same time brings you more business
Deleting Google Review as a Customer:
Well as a customer, there's a chance that you pressed enter when typing half the review and it got posted. Have no worries as you can always delete a Google review and post a new one in such cases
Here are the steps to removing Google review as a customer
1. Head over to google.com/maps/contrib//reviews from the browser where you are currently signed in to the Google account where you left the review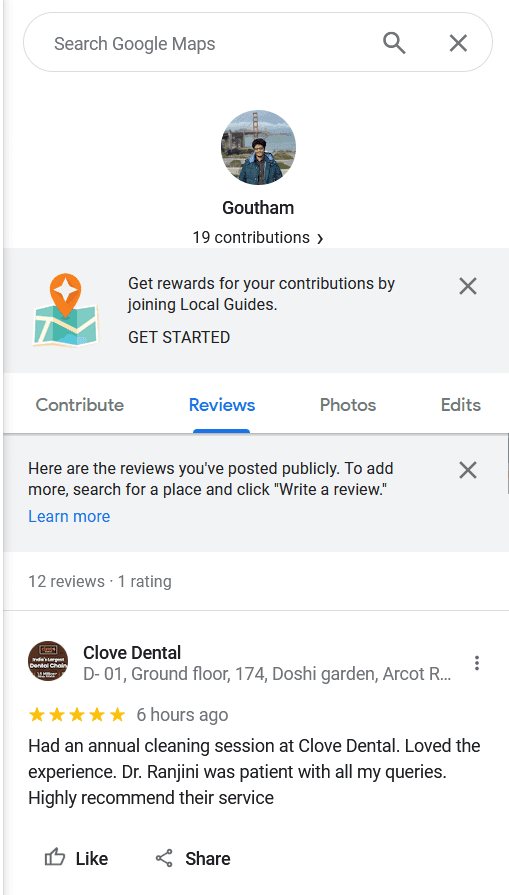 2. Select the review that you'd like to delete
And Voila! The review gets deleted
Collect & Display Testimonials with Famewall
Famewall makes it easy for businesses to collect testimonials from customers and display them in multiple ways on websites, emails etc to attract more customers without any coding.
It's 100% free to try
Get Started
Free forever. No credit card required!