Doing customer support by yourself as an entrepreneur

Goutham Jay
·
Oct 3, 2023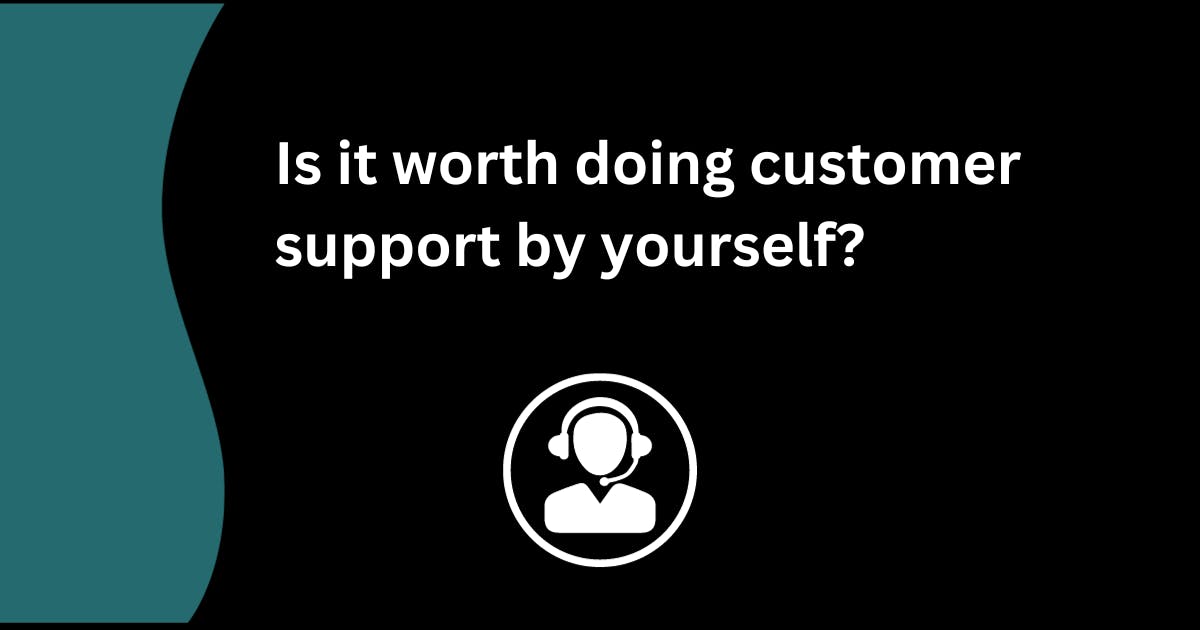 Doing customer support by yourself as an entrepreneur
I started out as a solopreneur in 2022 for the first time after failing in a B2C venture with cofounders

As an excited first-time founder, I deeply valued every customer who turned up to use Famewall

For quick context, Famewall is a product that allows entrepreneurs & business owners to collect testimonials with a simple link and display them in multiple ways to increase conversions

I also took it as my own responsibility to go out of my way to write them an email and get to know if they were all set

This greatly helped me understand the things I needed to work on and the flaws in the initial version of the product which I quickly worked on

Ever since then, it's become a habit for me to offer good customer service to anyone who spends their time & money to use something I built

And apart from this, I've always liked entrepreneurs. You could say my previous failures made me admire successful entrepreneurs even more.

In fact, I made a conscious decision to have entrepreneurs & businesses as my ideal customer segment for this very reason when I planned to start out as a solopreneur.

This also turned out to be an advantage later on since interacting with customers would sometimes replenish my energy when I used to feel low in this journey of being a solopreneur

Okay, so why customer service by yourself instead of automating it?
There was a tenet I decided to have when I operated my business
"Treat customers the same way as you'd want to be treated by a business"
This was something that I decided after "a few experiences" with other businesses in my first year as an entrepreneur building B2C products and paying for services

At the time, we chose a content management system that offered a great product with a lot of features and became a paying customer but we quickly ran into issues when using their product.

We tried finding their customer support only to see that they neither had a knowledge base nor a customer chat. The only option we had was to use an email to contact them. And they responded almost 4 days later

That caused us a lot of delays and after a similar occurrence, it got us to the point of shifting to an alternative that offered fewer features but had amazing customer support

After this incident, offering good customer support has become a fundamental principle in all my business ventures as I wanted customers to experience the best when going for Famewall much as I'd desire in a product myself

Apart from this, there were several advantages I had when I did customer support by myself.

In the initial days of launching Famewall's first version, potential customers used to ask me questions about the product in the customer chat bubble at the bottom of the screen

This is a chat widget from Crisp. Great product! Highly recommend them
And as the product grew, the questions were much more nuanced.

Some of these questions helped me rewrite the landing page copy so that a website visitor got a better context of the product

Other conversations have aided me in fixing critical bugs that I would have not known if the customer needed to make extra efforts to report them like sending an email etc.
It's also become easier for me to decide on the features to build based on the chat conversations and avoid building unnecessary features that customers might not find useful

Some of the most asked questions are turned into blog posts or questions on the help center so that customers can find an immediate fix or I could direct them there for a detailed explanation

I've also built a lot of trust and goodwill with my customers by just listening to them, shipping the features they need, and then letting them know about the updates on the request
In the end, it also became an unfair advantage to me as a solopreneur as I've had customers who liked the customer service a lot and recommended my product to their colleagues & peers
It's become something I enjoy doing as I wouldn't want to miss out on opportunities to understand customer insights

I also want to be honest. I've had days when I felt tired of having to do customer service, especially after a long day of doing marketing tasks/building features. But those were just a handful of occurrences.

In fact, who wouldn't want to see messages like these that would totally make your day! 😉
The net outcome has been positive as I've even changed my marketing plans for the week based on customer questions

Why not use AI chatbots?
With AI tools becoming the trend, there are plenty of AI chatbots out there that offer a wide range of features by providing answers to customers based on the website data

The popular argument is that AI chatbots save a lot of time and help you scale as you serve a large number of customers. I have no complaints against that as it totally makes sense for larger companies

But at the scale where I'm in where I'm a niche solopreneur with a couple thousand of users, it hasn't been a big problem.

Customer support has also become a big part of the reason why I prefer to buy from niche entrepreneurs & creators over large incumbents though they offer sophisticated features

I personally don't enjoy it when I'm a paying customer of a product and sometimes open up a customer chat only to find a bot responding to my queries. The bot also provides a generic response and then you'd have to repeat your query with a customer support agent which would consume a lot of your time.

I usually don't open up customer chat if I can find an answer in the help center directly. So offering a help desk in conjunction with customer chat would be a great idea

Even as my business scales, I've planned to invest in a customer support team rather than trying to fully automate it as it's become a key reason for customers to choose Famewall

In fact, I've been a long-term paying customer of a no-code tool for over 2+ years which offered prompt customer support despite having a large number of customers as they have a dedicated customer support team.

It greatly aids in building trust and increasing customer retention

Of course, this varies from person to person and from business to business

But based on my tenet and for my target segment, it's worked really for me and my customers
Try Famewall for FREE to collect testimonials from customers & share them on your website in multiple ways to increase sales